Providing Amazing Local Food
Long summer days are all about relaxed dining and making the most of fresh local produce, including seafood. Or at least that's the ethos of The Kitchen by the Beach, where head chef Michael Corbin – of South African origin but now very much a local –insists on the freshest locally sourced and often hand-picked ingredients for his dishes. These range from classic fish and chips to green chicken curry.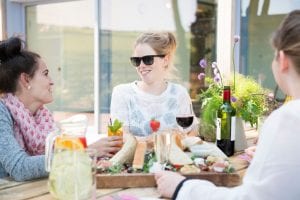 Set in the stylish surrounds of The Park Cornwall with its glamping, eco-lodges and beach houses, The Kitchen is a five-minute walk from glorious Mawgan Porth – one of Cornwall's best beaches – making it your perfect stop-off before, in the middle of or after a day by the sea. We're open daily for breakfast until 11am, lunch and dinner, but there's a lounge menu throughout the afternoon and evening too, making it easy to refuel a time to suit you.
We've looked at some of the highlights of The Kitchen at the Beach for those of you visiting Cornwall this summer.
Callestick Farm ice cream, made by the Parker family since 1953, using milk from their contented, grass-fed 300-strong herd. If you're on a family holiday in Cornwall, a visit to Callestick is a one of the top things to do with kids – as well as seeing the production process in action, you can can get up close and personal with this working farm's pigs, chicken breeds, turkey and, depending on when you visit, calves,
Cornish seafood fresh from the boats, including Fowey mussels cooked with onion and garlic cream, and haddock from the fishing port of Newlyn next to Penzance.
Local fruits and foraged ingredients including wild garlic, which grows in abundance along the river banks and footpaths close to the sea in Cornwall. We offer it with mushrooms in a vegetarian tagliatelle dish, but it's also a great alternative to basil in home-made pesto.
The artisan Cornish blue cheese, which has been rated by experts as one of the best cheeses in all Britain and has won numerous highly prestigious awards. We serve it at Sunday lunch with tomato chutney, crackers and apple, but it's also great in Cornish pasties, pies and other savouries.
Cornish Davidstow cheddar, another award-winning regional cheese perfected over the last 60 years and known for its strong but well-rounded flavour, its slight crunch and it crystalline appearance. This is served in our lounge, with chilli beef, spiced sausage and barbecue sauce.
Brownies made with Cornwall's own Kernow chocolate, which is hand-made at the firm's chocolate factory in St Eval less than a 10-minute drive from The Kitchen by the Beach. If you want to know how, pay it a visit – you can sit and watch it being hand-crafted in front of your eyes, then enjoy some free samples at the tasting table.
Classic Cornish cream teas served in our lounge, using clotted cream from the iconic Cornish dairy Rodda's and jam made with strawberries from Boddington's Berries in Mevagissey.
Locally made cakes – perfect for refuelling after a relaxing swim in our indoor or outdoor pool (indeed, when you buy pool entry, you get a voucher to spend in the restaurant).
Child-friendly dining. Kids get smaller dishes from the main menu or the Sunday lunch menu as well as their own soft-play area, making this a great family-friendly restaurant option for those visiting Cornwall with kids this summer.
Dog-friendly dining. If you've been out and about making the most of those long summer days on the beach with your pooch (Mawgan Porth is open to dogs all year), The Kitchen on the Beach has a pet corner where your canine companion can chill out while you eat.