Say "I Do" At The Park
Whether you live in the region or not, there are so many reasons to get married in Cornwall. You're surrounded by some of the UK's loveliest scenery, including blissful beaches and serene countryside, and the food is top-notch thanks to the freshest local ingredients including Atlantic seafood and foraged herbs.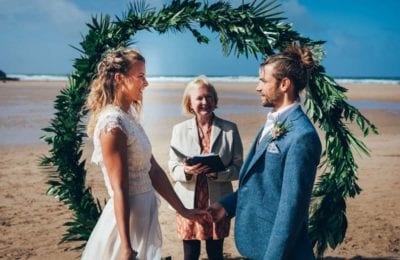 Why Get Married at The Park Cornwall?
Our bespoke packages mean you can design your day and evening to match your dreams.
We have licenses to host civil ceremonies, naming ceremonies and renewal of marriage vows.
We're ideal for intimate weddings, elopements and/or unconventional ceremonies.
You can choose from several different venues within The Park: our Yurt Village, our stylish The Kitchen By The Beach restaurant, and our three Eco Lodges.
The fairy-tale Yurt Village has a communal lounge accommodating up to 25 guests and a fire-pit and clay oven under the stars, making it ideal for small and quirky weddings.
Our three Eco Lodges each takes up to 25 guests and you can say your vows on a balcony against a backdrop of gorgeous views.
The Kitchen By The Beach can fit 50 guests in a contemporary setting with the benefit of an outdoor area with a clay oven.
We can put you in touch with the right people for barefoot weddings or vow renewals on the beach.
Your guests can enjoy our top-class accommodation, which includes luxury lodges, cosy cottages, park cabins and yurts. Many have private hot tubs – perfect for star-gazing over a celebratory glass of bubbly
We're only a short stroll from one of Cornwall's best beaches, Mawgan Porth.
Our facilities are second to none: they include indoor and outdoor swimming pools, a pool-bar, an on-site restaurant serving delicious local produce, a sauna and a steam room.
We're a great venue for family-friendly weddings in Cornwall, with outdoor play areas, children's activities including foraging, den-making and the ever popular beach school. Don't forget to say 'hi' to the sociable resident chickens and goats.
You can even bring your four-legged friends, since many of our properties and also our café are dog-friendly. We even have an enclosed dog walking area and there are several nearby walking trails. Indeed, we won Silver for Dog-friendly Business of the year in the Cornwall Tourism Awards 2019.
We have relationships with and personal recommendations for the finest local suppliers, including caterers, florists, photographers and make-up artists.
We're an eco-friendly venue, having won the Professor David Bellamy Gold accolade. We have several badges under our belt for fostering various types of habitat and are working towards earning our wetlands badge. We are also a BBKA Honey Bee-friendly park, with our own hives, beekeeper and honey production (which you can buy on-site)
We're one of the friendliest places you can imagine! Many of our staff have won Customer Service Superstar accolades in the Cornwall Tourism Awards, including grounds manager Mark Jackson in 2019. Also in 2019, we won Gold for Holiday Park of the year in the Cornwall Tourism Awards.